Lucky Spin aka. the Wheel of Fortune
In the wheel of fortune, you can unlock Epic Immortals and earn dragon shards, speedups and much more. It is a very good event if you want to quickly gain strength with one of the original elements (non shadow/holy). You will get a good bit of dragon soul shards and Epic Immortal Fragments.
Some guides claim that the Wheel of Fortune/Lucky Spin event is good for grinding Purple Crystals. This is not true. With this event you are able to turn your gems into purple crystals at roughly 1:1 ratio, which is not too bad but not efficient. I would remind you however, to check out out Purple Crystal Earners Guide to see alternative ways of earning crystals.
| | |
| --- | --- |
| Max spins per day | 50 |
| Free spins per day | 1 |
| Spins to clear the wheel | 25 |
| Total cost in gems | 14700 |
Max daily purple crystal gain: 2x 7000 = 14.000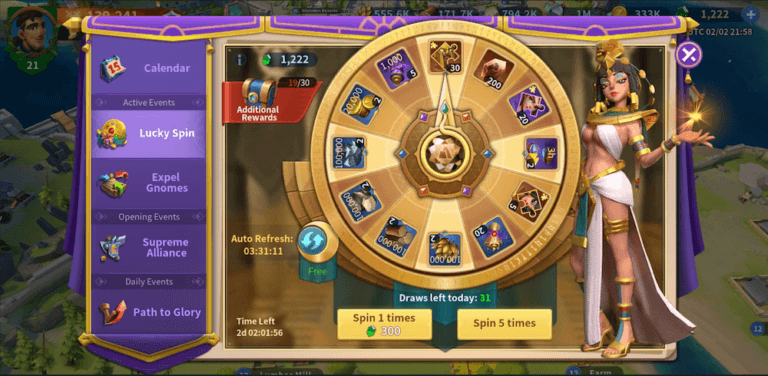 | What you get from a wheel clear? | Shards/reward | Amount | Converted into purple crystal |
| --- | --- | --- | --- |
| Jackpot Epic Immortal | 30 | 1 | 3000 |
| Mini Epic Jackpot | 5 | 6 | 3000 |
| Elite Immortal | 20 | 1 | 1000 |
| Dragon Shards | 200 | 1 | |
| Speedups | 2x3h | 2 | |
| Market Refreshes | 20 | 2 | |
| Experiance Scrolls | 5x 1.000 | 2 | |
| Gold | 2x20K | 2 | |
| Grain | 2x100K | 2 | |
| Stone | 2x100K | 2 | |
| Wood | 2x100K | 2 | |
| Iron | 2x100K | 2 | |
| | | | |
| Total | | 25 | 7.000 |
Published 26-01-2022