All Level 1 ruins
Exploring the Mystical Ruins
In the captivating realm of Infinity Kingdom, the Ruins are a treasure trove of rewards and adventure. These ancient remnants hold secrets and resources waiting to be uncovered. Here, we present to you a comprehensive list of Ruins, along with the rewards they bestow upon those brave enough to venture within.
Navigating the Ruins
Finding your way to the Ruins is a breeze in Infinity Kingdom. Simply input the coordinates in-game by typing them into the X/Y fields at the top of the screen when on the field.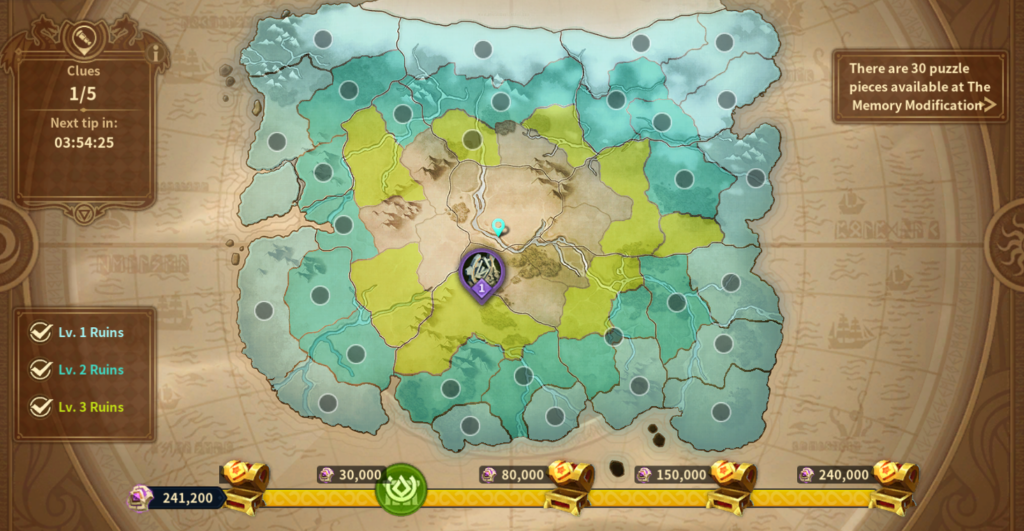 Clio Ruins: Level 1 Ruins
Area 1:
X: 15, Y: 149
X: 33, Y: 175
X: 34, Y: 110
X: 73, Y: 58
X: 119, Y: 50
X: 130, Y: 85
X: 133, Y: 133
X: 140, Y: 88
X: 157, Y: 131
X: 156, Y: 90
X: 172, Y: 111
X: 180, Y: 59
X: 193, Y: 26
X: 193, Y: 45
X: 200, Y: 151
X: 211, Y: 43
X: 214, Y: 34
X: 226, Y: 36
X: 238, Y: 72
X: 243, Y: 39
X: 246, Y: 30
X: 266, Y: 90
X: 270, Y: 57
X: 289, Y: 128
X: 310, Y: 120
X: 314, Y: 60
X: 350, Y: 55
Area 2:
X: 57, Y: 214
X: 68, Y: 211
X: 94, Y: 206
X: 111, Y: 221
X: 136, Y: 224
X: 144, Y: 180
X: 152, Y: 222
X: 158, Y: 198
X: 206, Y: 170
X: 29, Y: 361
X: 62, Y: 315
X: 67, Y: 359
X: 78, Y: 263
X: 92, Y: 255
X: 101, Y: 332
X: 124, Y: 318
X: 133, Y: 350
X: 155, Y: 282
X: 9, Y: 480
X: 17, Y: 495
X: 19, Y: 455
X: 27, Y: 464
X: 48, Y: 491
X: 63, Y: 405
X: 108, Y: 422
X: 115, Y: 392
X: 123, Y: 377
Area 3:
X: 49, Y: 575
X: 52, Y: 557
X: 64, Y: 532
X: 71, Y: 559
X: 81, Y: 620
X: 96, Y: 566
X: 114, Y: 574
X: 132, Y: 583
X: 138, Y: 593
X: 17, Y: 746
X: 18, Y: 710
X: 21, Y: 721
X: 32, Y: 637
X: 36, Y: 710
X: 37, Y: 726
X: 53, Y: 727
X: 55, Y: 639
X: 71, Y: 711
X: 46, Y: 777
X: 54, Y: 819
X: 63, Y: 800
X: 67, Y: 753
X: 84, Y: 736
X: 84, Y: 826
X: 100, Y: 790
X: 102, Y: 798
X: 126, Y: 805
Area 4:
X: 76, Y: 840
X: 143, Y: 880
X: 152, Y: 833
X: 152, Y: 853
X: 152, Y: 860
X: 153, Y: 921
X: 164, Y: 893
X: 172, Y: 834
X: 194, Y: 834
X: 191, Y: 895
X: 205, Y: 937
X: 221, Y: 873
X: 265, Y: 862
X: 275, Y: 890
X: 279, Y: 865
X: 298, Y: 957
X: 306, Y: 908
X: 314, Y: 932
Area 5:
X: 449, Y: 961
X: 455, Y: 981
X: 467, Y: 966
X: 472, Y: 985
X: 487, Y: 934
X: 508, Y: 902
X: 525, Y: 923
X: 544, Y: 931
X: 565, Y: 950
X: 581, Y: 932
X: 585, Y: 965
X: 596, Y: 975
Area 6:
X: 639, Y: 950
X: 665, Y: 883
X: 670, Y: 856
X: 680, Y: 961
X: 681, Y: 858
X: 691, Y: 875
X: 708, Y: 900
X: 712, Y: 878
X: 724, Y: 892
X: 727, Y: 912
X: 729, Y: 947
X: 739, Y: 942
Area 7:
X: 800, Y: 871
X: 842, Y: 865
X: 843, Y: 925
X: 866, Y: 907
X: 868, Y: 900
X: 891, Y: 874
X: 894, Y: 901
X: 904, Y: 842
X: 910, Y: 855
X: 843, Y: 770
X: 843, Y: 805
X: 851, Y: 813
X: 888, Y: 761
X: 892, Y: 791
X: 892, Y: 821
X: 912, Y: 762
X: 913, Y: 778
X: 916, Y: 753
Area 8:
X: 960, Y: 922
X: 972, Y: 905
X: 976, Y: 925
X: 977, Y: 870
X: 996, Y: 869
X: 1011, Y: 868
X: 1012, Y: 910
X: 1016, Y: 846
X: 1021, Y: 884
X: 1059, Y: 886
X: 1091, Y: 879
X: 1094, Y: 900
X: 1095, Y: 891
X: 1104, Y: 835
X: 1115, Y: 907
X: 1137, Y: 854
X: 1149, Y: 844
X: 1159, Y: 833
X: 1032, Y: 936
X: 1037, Y: 926
X: 1062, Y: 948
X: 1072, Y: 940
X: 1077, Y: 932
X: 1104, Y: 977
X: 1113, Y: 924
X: 1123, Y: 966
X: 1133, Y: 948
Area 9:
X: 972, Y: 791
X: 990, Y: 821
X: 1013, Y: 754
X: 1022, Y: 823
X: 1023, Y: 746
X: 1033, Y: 850
X: 1036, Y: 778
X: 1036, Y: 817
X: 1046, Y: 778
X: 1103, Y: 782
X: 1116, Y: 730
X: 1138, Y: 782
X: 1139, Y: 717
X: 1143, Y: 775
X: 1155, Y: 786
X: 1164, Y: 781
X: 1179, Y: 755
X: 1180, Y: 765
Area 10:
X: 1052, Y: 715
X: 1063, Y: 636
X: 1067, Y: 726
X: 1073, Y: 697
X: 1075, Y: 688
X: 1119, Y: 670
X: 1121, Y: 624
X: 1139, Y: 629
X: 1139, Y: 664
X: 1012, Y: 574
X: 1016, Y: 585
X: 1020, Y: 608
X: 1038, Y: 555
X: 1039, Y: 593
X: 1041, Y: 562
X: 1058, Y: 575
X: 1067, Y: 573
X: 1096, Y: 599
Area 11:
X: 1073, Y: 438
X: 1102, Y: 417
X: 1103, Y: 475
X: 1105, Y: 496
X: 1116, Y: 449
X: 1122, Y: 487
X: 1134, Y: 535
X: 1138, Y: 547
X: 1144, Y: 415
X: 1043, Y: 348
X: 1053, Y: 343
X: 1070, Y: 383
X: 1072, Y: 346
X: 1079, Y: 303
X: 1102, Y: 377
X: 1110, Y: 397
X: 1152, Y: 402
X: 1153, Y: 414
Area 12:
X: 1008, Y: 261
X: 1031, Y: 239
X: 1040, Y: 199
X: 1041, Y: 220
X: 1042, Y: 287
X: 1052, Y: 206
X: 1065, Y: 217
X: 1075, Y: 238
X: 1079, Y: 278
X: 1055, Y: 197
X: 1093, Y: 148
X: 1101, Y: 244
X: 1107, Y: 142
X: 1118, Y: 216
X: 1120, Y: 185
X: 1129, Y: 151
X: 1149, Y: 221
X: 1156, Y: 168
Area 13:
X: 943, Y: 228
X: 944, Y: 175
X: 961, Y: 149
X: 968, Y: 174
X: 984, Y: 147
X: 1008, Y: 128
X: 1020, Y: 199
X: 1039, Y: 137
X: 1053, Y: 136
X: 1023, Y: 70
X: 1024, Y: 43
X: 1037, Y: 98
X: 1045, Y: 76
X: 1073, Y: 114
X: 1112, Y: 98
X: 1134, Y: 70
X: 1152, Y: 68
X: 1169, Y: 113
Area 14:
X: 732, Y: 123
X: 737, Y: 87
X: 753, Y: 141
X: 769, Y: 84
X: 773, Y: 163
X: 787, Y: 226
X: 797, Y: 202
X: 801, Y: 123
X: 811, Y: 123
X: 848, Y: 124
X: 853, Y: 92
X: 853, Y: 105
X: 885, Y: 93
X: 901, Y: 115
X: 919, Y: 62
X: 954, Y: 113
X: 986, Y: 123
X: 1007, Y: 101
Area 15:
X: 361, Y: 82
X: 375, Y: 141
X: 378, Y: 56
X: 389, Y: 108
X: 394, Y: 140
X: 400, Y: 182
X: 426, Y: 68
X: 449, Y: 93
X: 451, Y: 131
X: 468, Y: 72
X: 487, Y: 87
X: 497, Y: 63
X: 501, Y: 99
X: 505, Y: 65
X: 514, Y: 144
X: 517, Y: 113
X: 526, Y: 172
X: 554, Y: 107
X: 568, Y: 160
X: 579, Y: 142
X: 595, Y: 73
X: 601, Y: 96
X: 608, Y: 74
X: 629, Y: 93
X: 647, Y: 182
X: 673, Y: 115
X: 710, Y: 87
Published: 01-09-2023