Dwellings
Dwellings are one of your main sources of gold income. The dwellings are your tax-farms and they provide a passive income yield just like farms produce food and lumbers wood.
You want to prioritise dwellings as you build up and progress through the building levels. Gold is a high demand and low supply ressource which you will need a metrix ton of to upgrade your dragon and boost your immortals.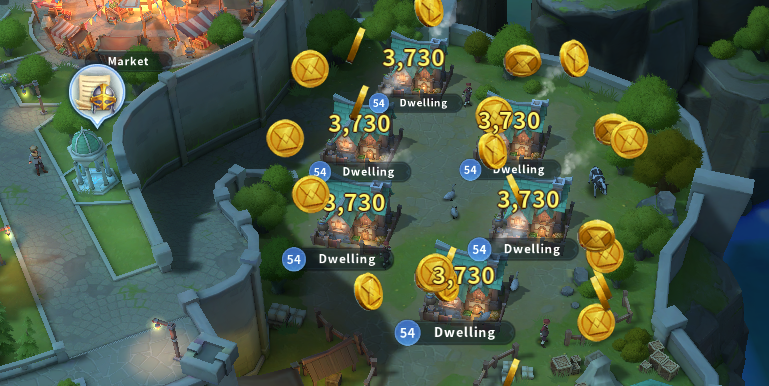 lvl 54 = 522.5 gold per minute
My Dwellings produce 3,730 gold per 2 min (harvest timing) at level 54, times 6 that is a solid 671,400 gold per hour or 16,113,600 million gold per day (with talent and 10/10 Gold Piles tech and gold production buff active plus in-game shop gold boost).
Dwellings are the easiest way to obtain gold and they are a constant stream of gold production for your Castle Kingdom. Upgrading your Dwellings to level 55 should be a priority for anyone struggling to keep up with the mounting gold costs. The production boost increases are quite significant. Personally, I prioritize upgrading all my dwellings every time I unlock a new Castle level.

Furthermore, you should remember to buff your gold production. Using the in-game buff items you can maintain a constant 50% boost to gold production, which makes Dwelling income go through the roof. This is arguably the single best use of gems (500 gems per 24 hour boost). I personally always maintain the buff as it is the most growth-value per gem spent until Immortals and Dragons are maxed (and even at this point, I will continue because we know we will need more for levels 60 once that is released).
Moreover, you can get an additional 10% production on top with the 14 days 5$ gold bundle in the Kingdom Supplies store. With both of these buffs active as well as the talents and more, you earn MASSIVE amounts of gold by simply harvesting your Dwellings.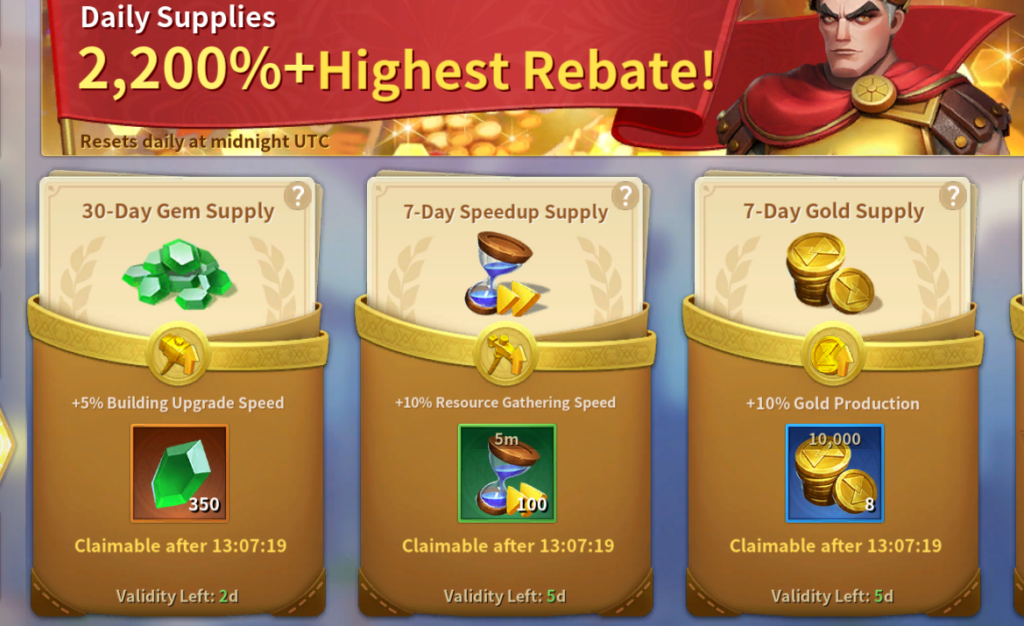 Technology
Because dwellings are so very important to your total gold wealth, you want to prioritise upgrading not only these buildings, but also the technology related to dwellings and gold production.

Talent – Plentiful Gold
This talent is steightforward and insanely strong. Your dwellings produce a ton of gold for you as your citizens are taxed minute by minute.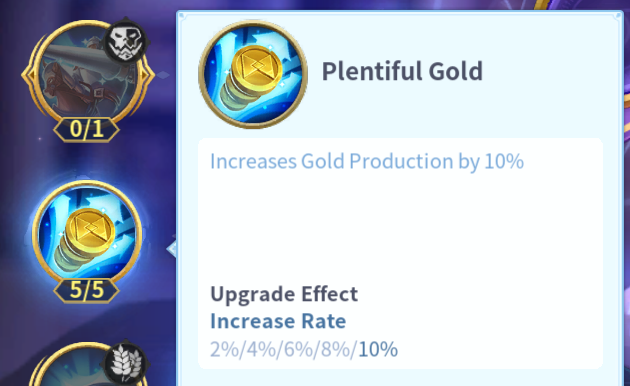 Read more about gold talents. This talent is a plain 10% boost to the production of your dwellings. You should always have this talent on.
Published: 25-08-2023