Battle Reports: Hits, Crits and Misses/Dodges
It is incredibly important to be able to read and understand battle reports and the implications of the information you are given here. There is quite a lot of information to be had from battle reports on the damage dealt by your Immortals in your army as well as the damage taken, types of damage, critical hits, buffs, control and much more.
In this guide we are going to dive into Damage Dealt. In the first half of this guide series on understanding damage done, we dealt with damage dealt. You can read more here (1) Battle Reports: Sources of Damage Dealt during combat
For this half of the guide we are going to investigate: (2) hits, critical hits and misses/dodges.
Hits
First and foremost the simplest type of damage instance/combat event. A hit simply means you hit with whatever attack or ability is marked. Nothing more nothing less, just a normal hit. No crits, no misses, no dodges, no nothing special. Just landing a successful hit.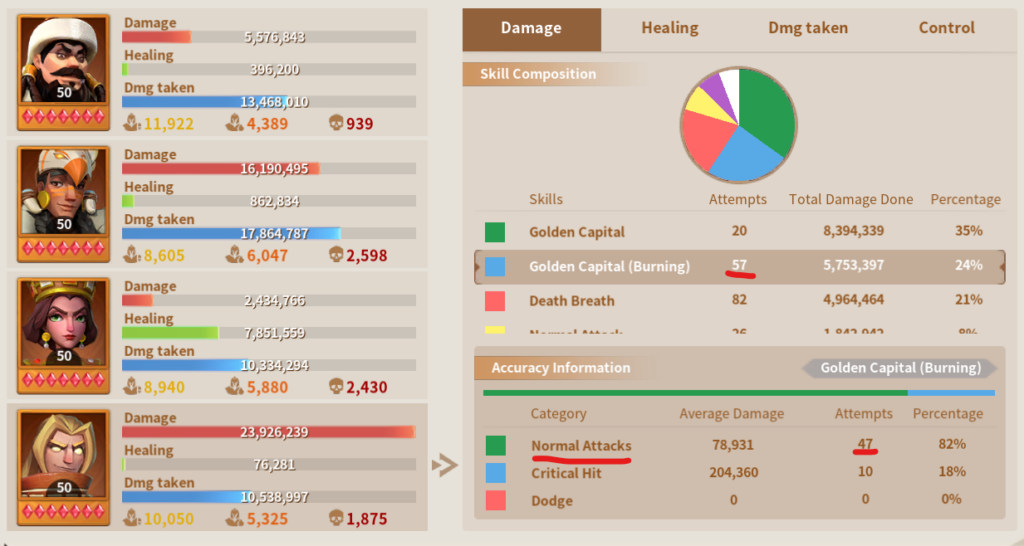 Critical hits
Crits or critical hits mean you are lucky and the attack that you hit with (counted under critical hits) "rolls" a critical hit. When you get lucky and land a critical hit you deal a massive amount of additional damage. The precise damage increase of a critical hit is a hidden mechanic but it is somewhere around 2 times normal hit damage (heard some speculate it is more like 2.5x but we do not know for certain). Either way, landing a critical hit is massive and can truly turn the tides of any battle.
You can see critical hits noted for every single ability and attack in a battle report by clicking the immortal > the skill > see "critical hit".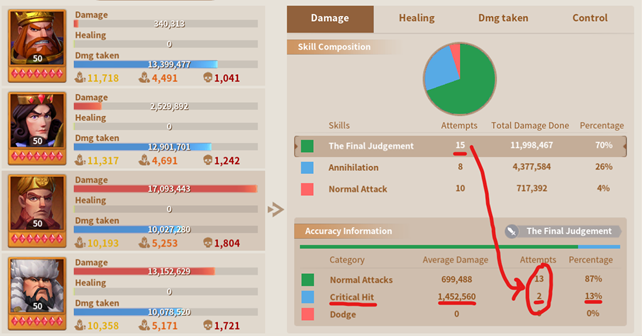 In this example, Hammurabi has dealt 2 critical hits out of the total 15 attempts on his Final Judgement ability (hence 13% critical hit rate > see right).
The damage of these critical hits are on average 2 times larger than each of the normal hits. It is worth noting that if we got a crit at max troop count and then preceded to loose a lot of troops, the average damage reporting becomes very muddy. This is because it averages out the damage dealt throughout the entire fight – so when you deal damage on 100% troop count for e.g. 2.500.000 damage in a single crit, you can later make another crit but which only deals 500.000 damage because you are currently at very low troop count. Hence the avg critical hit damage for the battle would be 2 crits avg. 1.500.000. You cannot look up the biggest and the smallest critical hits – unfortunately! You can checkout the replay and watch for critical hit instances, then compare that to the data in the report. But this is not very accurate.
Misses and dodges
Just like an attack attempt with your normal attack or an ability can hit and can crit – it can also miss! Or more precisely in the Infinity Kingdom terminology the attack is dodged by the enemy. A dodged attack deals 0 damage and as such, being able to dodge attacks from your enemy is a MASSIVE reduction of the damage you take. Getting Immortals to never miss / have their outgoing attacks dodged is of critical importance. This is why you ALWAYS run coercion for non-hit-capped marches.
Three main things you need to know about dodge is:
You can ONLY dodge PHYSICAL attacks. Magical attacks and unavoidable and hence, dodge chance and accuracy is useless when dealing with magical damage.
If you use physical damage dealers, you MUST make sure that you get as much accuracy as possible. In the below image our Alex alone is missing 18% of hit attacks, that is a MASSIVE amount of damage lost and a huge impact. The most important attribute for a physical damage dealer is getting to "hit-cap". This means getting enough accuracy attribute to NEVER miss an attack. You can upgrade your dragon talents and deploy Coercion as well as specific lord talents to ensure hit-cap is reached.
If you are facing enemy physical damage dealers who are not capped or over-capped on accuracy (i.e. hit chance), then you can deploy a very powerful strategy of stacking dodge chance to avoid their damage and completely own them in a fight. Misleading and After-Image both provides massive dodge chance, likewise Lord Talents in row 1 improves your dodge. If your enemy is not smart enough to hit-cap, then stacking dodge will make any physical damage based enemy useless against you.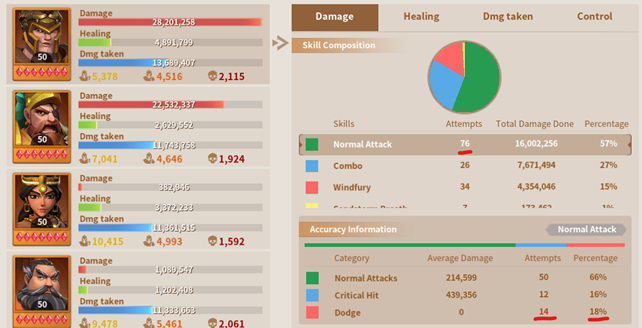 Published: 25-05-2023