Conquest P2: 250K gems in Ancient Chest
Legion of Frostborne has come to an end for all of the conquest servers. If you are in Conquest and you are wondering if it is worth spending all the gems you have banked on the Ancient Remanents chests – then you have come to the right place!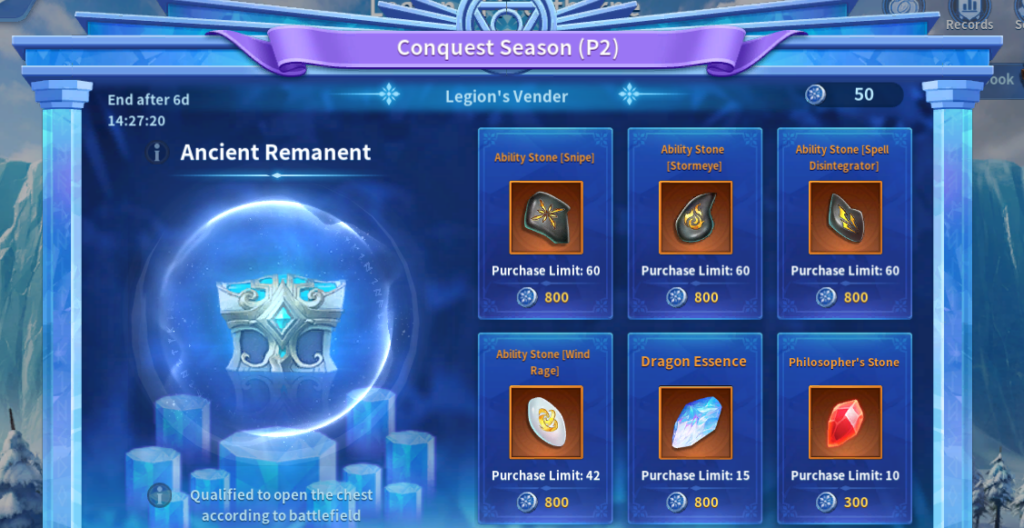 I have been asked a lot the last few days "Should I spend my …. gems after SvS?" – "What is the drop chance for the Tower of Knowledge skills in the Ancient chests?" and so on. Therefore, I will continue my tradition of publishing my personal loot rewards from doing SvS chests.
This season I have stacked 245,000 gems to be spent on Ancient Remanent Chests. That means a total of 490 chests across 49 10x pulls. I have included the drops of every single pull below, to give you an indication of what to expect when doing these pulls. As you can see, the rewards are highly varied. In one 10x pull I for instance get 0 Margaret fragments and in another I get 22! Likewise sometimes, I get just a single random ToK skill stone, others I get 4. This is what you should expect, I think it gives you a nice understanding of what you are getting into. You can also watch the video on the bottom of this page, to see me doing the draws.
490 Ancient Remanents Chest loot table
To be precise, I have made 49 pulls, using 245k gems. Out of a total of 490 chests the drops and drop rates are as follow:
| | | | | | | | | | |
| --- | --- | --- | --- | --- | --- | --- | --- | --- | --- |
| No. | Margaret | Tokugawa | Wind Rage | Full Coverage | Victorious Pursuit | Spell Disintegrator | Siren's Gaze | Snipe | Berserker |
| 1 | 3 | 6 | 1 | | | | | | |
| 2 | 9 | 11 | 1 | | | | | | |
| 3 | 5 | 8 | 1 | | | | | | |
| 4 | | 8 | | 1 | | | | | |
| 5 | 8 | 5 | | | 1 | | | | |
| 6 | | 4 | | | | | 1 | | |
| 7 | 5 | 8 | | | | 1 | | | |
| 8 | 3 | 15 | | | | | 1 | | |
| 9 | 3 | | | 1 | | 1 | | 1 | |
| 10 | 22 | 3 | | | | | | 3 | |
| 11 | 13 | 5 | | 2 | | | | | |
| 12 | 3 | 8 | 1 | | | | | | |
| 13 | 5 | 4 | 1 | | | | | | |
| 14 | 12 | 3 | 1 | | | | | 1 | |
| 15 | 10 | 1 | | 1 | | | | | |
| 16 | 5 | 3 | | | | | | | 1 |
| 17 | 5 | 9 | | | | 1 | | | |
| 18 | 8 | 3 | 1 | | | 1 | | | |
| 19 | 5 | 17 | | 1 | | | | | |
| 20 | 12 | 4 | 3 | | | | | | |
| 21 | 12 | 8 | | 1 | | | | | |
| 22 | 6 | 3 | | 1 | 1 | | | | 1 |
| 23 | 3 | 3 | | | 1 | | 1 | | |
| 24 | 1 | 5 | | 1 | 1 | | | | |
| 25 | 5 | 4 | 1 | | | | | | |
| 26 | 19 | 5 | | | | 1 | | | |
| 27 | 5 | 11 | | | | 1 | | | 1 |
| 28 | 11 | 3 | | 1 | | | | | |
| 29 | 8 | 3 | | | | | | 1 | |
| 30 | 8 | 6 | | 4 | | | | | |
| 31 | 12 | | | | | | 1 | | |
| 32 | 3 | 15 | | | 1 | | 1 | | |
| 33 | 5 | 9 | | | | | | 1 | |
| 34 | 3 | 14 | | 1 | | | | | |
| 35 | 9 | | | 1 | | | | | |
| 36 | 8 | 6 | | 1 | | | | | |
| 37 | 11 | 3 | 1 | | | | | | |
| 38 | 12 | 3 | | | 1 | | | | |
| 39 | 6 | 6 | | | | | 1 | | |
| 40 | 1 | 6 | | 4 | | | | | |
| 41 | 8 | 3 | 2 | | | | | | |
| 42 | 6 | 10 | | 1 | | | | | |
| 43 | 7 | 3 | | | 1 | | | | |
| 44 | | 3 | | 1 | 1 | | | | |
| 45 | 6 | 6 | | | | | 1 | | |
| 46 | | 11 | | | | 1 | | | |
| 47 | 5 | 3 | 1 | | | | | | |
| 48 | | 12 | | | | | 1 | | |
| 49 | 10 | 9 | 2 | | | | | | |
Total drops & Drop chance (%)
In total I recieved the following drops from all 49x 10 pulls
| | | | | | | | | | |
| --- | --- | --- | --- | --- | --- | --- | --- | --- | --- |
| | Margaret | Tokugawa | Wind Rage | Full Coverage | Victorious Pursuit | Spell Disintegrator | Siren's Gaze | Snipe | Berserker |
| Total | 326 | 298 | 17 | 23 | 8 | 7 | 8 | 7 | 3 |
| Drop chance | 665.31% | 608.16% | 34.69% | 46.94% | 16.33% | 14.29% | 16.33% | 14.29% | 6.12% |
Loot video
Published: 12-02-2023