Castle Upgrade Costs
Your Castle is the core building in your territory, and its level will affect the development level of other things. The potential for you to develop your military, agriculture, technology, and so on, is also directly linked to the Castle. The highers its level, the more Immortals you can also assign further boosting your Military, Production, and Technology production.
Upgrading your Castle is one of the main objectives of Infinity Kingdom, once you hit level 50 you are officially in the end game!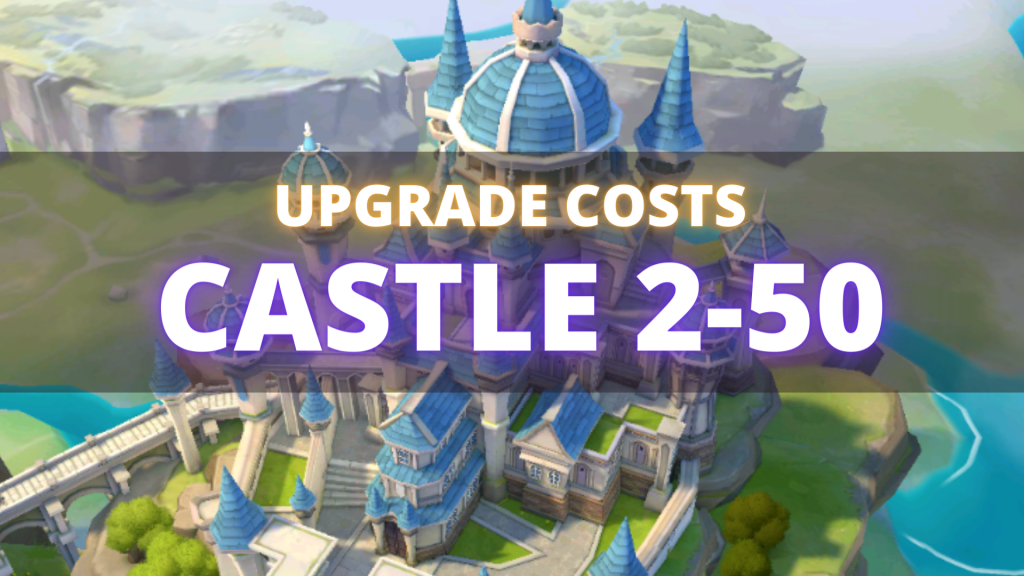 Below is a comprehensive list of the costs of upgrading Castle level 2-50. If you need info on the building requirements needed to being a castle upgrade, you can find a full list of requirements here.
Castle Upgrade Costs
| | |
| --- | --- |
| Level 2 | |
| Wood: | 3,000 |
| Stone: | 4,500 |
| Iron: | 3,000 |
| Level 3 | |
| Wood: | 4,500 |
| Stone: | 6,800 |
| Iron: | 4,500 |
| Level 4 | |
| Wood: | 6,000 |
| Stone: | 9,000 |
| Iron: | 6,000 |
| Level 5 | |
| Wood: | 7,500 |
| Stone: | 11,200 |
| Iron: | 7,500 |
| Level 6 | |
| Wood: | 9,000 |
| Stone: | 13,500 |
| Iron: | 9,000 |
| Level 7 | |
| Wood: | 12,000 |
| Stone: | 18,000 |
| Iron: | 12,000 |
| Level 8 | |
| Wood: | 1,500 |
| Stone: | 22,500 |
| Iron: | 15,000 |
| Level 9 | |
| Wood: | 22,500 |
| Stone: | 33,700 |
| Iron: | 22,500 |
| Level 10 | |
| Wood: | 30,000 |
| Stone: | 45,000 |
| Iron: | 30,000 |
| Level 11 | |
| Wood: | 40,500 |
| Stone: | 60,700 |
| Iron: | 40,500 |
| Level 12 | |
| Wood: | 53,800 |
| Stone: | 80,700 |
| Iron: | 53,800 |
| Level 13 | |
| Wood: | 69,700 |
| Stone: | 104,500 |
| Iron: | 69,700 |
| Level 14 | |
| Wood: | 93,900 |
| Stone: | 140,800 |
| Iron: | 93,900 |
| Level 15 | |
| Wood: | 122,300 |
| Stone: | 183,400 |
| Iron: | 122,300 |
| Level 16 | |
| Wood: | 153,860 |
| Stone: | 230,700 |
| Iron: | 153,860 |
| Level 17 | |
| Wood: | 190,000 |
| Stone: | 285,000 |
| Iron: | 190,000 |
| Level 18 | |
| Wood: | 231,100 |
| Stone: | 346,600 |
| Iron: | 231,100 |
| Level 19 | |
| Wood: | 317,200 |
| Stone: | 475,000 |
| Iron: | 317,200 |
| Level 20 | |
| Wood: | 415,000 |
| Stone: | 622,000 |
| Iron: | 415,000 |
| Level 21 | |
| Wood: | 520,100 |
| Stone: | 780,100 |
| Iron: | 520,100 |
| Level 22 | |
| Wood: | 637,800 |
| Stone: | 956,700 |
| Iron: | 637,800 |
| Level 23 | |
| Wood: | 768,800 |
| Stone: | 1,200,000 |
| Iron: | 768,800 |
| Level 24 | |
| Wood: | 1,100,000 |
| Stone: | 1,600,000 |
| Iron: | 1,100,000 |
| Level 25 | |
| Wood: | 1,400,000 |
| Stone: | 2,100,000 |
| Iron: | 1,400,000 |
| Level 26 | |
| Wood: | 1,700,000 |
| Stone: | 2,600,000 |
| Iron: | 1,700,000 |
| Level 27 | |
| Wood: | 2,100,000 |
| Stone: | 3,100,000 |
| Iron: | 2,100,000 |
| Level 28 | |
| Wood: | 2,500,000 |
| Stone: | 3,700,000 |
| Iron: | 2,500,000 |
| Level 29 | |
| Wood: | 3,344,000 |
| Stone: | 5,016,000 |
| Iron: | 3,344,000 |
| Level 30 | |
| Wood: | 4,300,000 |
| Stone: | 6,500,000 |
| Iron: | 4,300,000 |
| Level 31 | |
| Wood: | 5,200,000 |
| Stone: | 7,800,000 |
| Iron: | 5,200,000 |
| Level 32 | |
| Wood: | 6,200,000 |
| Stone: | 9,200,000 |
| Iron: | 6,200,000 |
| Level 33 | |
| Wood: | 7,200,000 |
| Stone: | 10,800,000 |
| Iron: | 7,200,000 |
| Level 34 | |
| Wood: | 9,900,000 |
| Stone: | 14,900,000 |
| Iron: | 9,900,000 |
| Level 35 | |
| Wood: | 12,800,000 |
| Stone: | 19,300,000 |
| Iron: | 12,800,000 |
| Level 36 | |
| Wood: | 15,600,000 |
| Stone: | 23,400,000 |
| Iron: | 15,600,000 |
| Level 37 | |
| Wood: | 18,500,000 |
| Stone: | 27,800,000 |
| Iron: | 18,500,000 |
| Level 38 | |
| Wood: | 21,700,000 |
| Stone: | 32,600,000 |
| Iron: | 21,700,000 |
| Level 39 | |
| Wood: | 29,200,000 |
| Stone: | 43,800,000 |
| Iron: | 29,200,000 |
| Level 40 | |
| Wood: | 39,800,000 |
| Stone: | 59,700,000 |
| Iron: | 39,800,000 |
| Level 41 | |
| Wood: | 42,100,000 |
| Stone: | 63,100,000 |
| Iron: | 42,100,000 |
| Level 42 | |
| Wood: | 48,300,000 |
| Stone: | 72,500,000 |
| Iron: | 48,300,000 |
| Level 43 | |
| Wood: | 55,000,000 |
| Stone: | 82,500,000 |
| Iron: | 55,000,000 |
| Level 44 | |
| Wood: | 62,000,000 |
| Stone: | 93,100,000 |
| Iron: | 62,000,000 |
| Level 45 | |
| Wood: | 66,400,000 |
| Stone: | 99,600,000 |
| Iron: | 66,400,000 |
| Level 46 | |
| Wood: | 71,000,000 |
| Stone: | 106,500,000 |
| Iron: | 71,000,000 |
| Level 47 | |
| Wood: | 75,700,000 |
| Stone: | 113,600,000 |
| Iron: | 75,700,000 |
| Level 48 | |
| Wood: | 80,700,000 |
| Stone: | 121,100,000 |
| Iron: | 80,700,000 |
| Level 49 | |
| Wood: | 85,900,000 |
| Stone: | 128,900,000 |
| Iron: | 85,900,000 |
| Level 50 | |
| Wood: | 91,300,000 |
| Stone: | 137,000,000 |
| Iron: | 91,300,000 |
Published: 30-05-2022