Dwellings Upgrade Costs
Dwellings unlock at Castle level 9. Dwellings will grant you tax incomes in the form of Gold coins. Gold is needed for Immortal upgrades and for leveling up dragons. The tax incomes will not increase after reaching its storage capacity, so please make sure to collect them in time.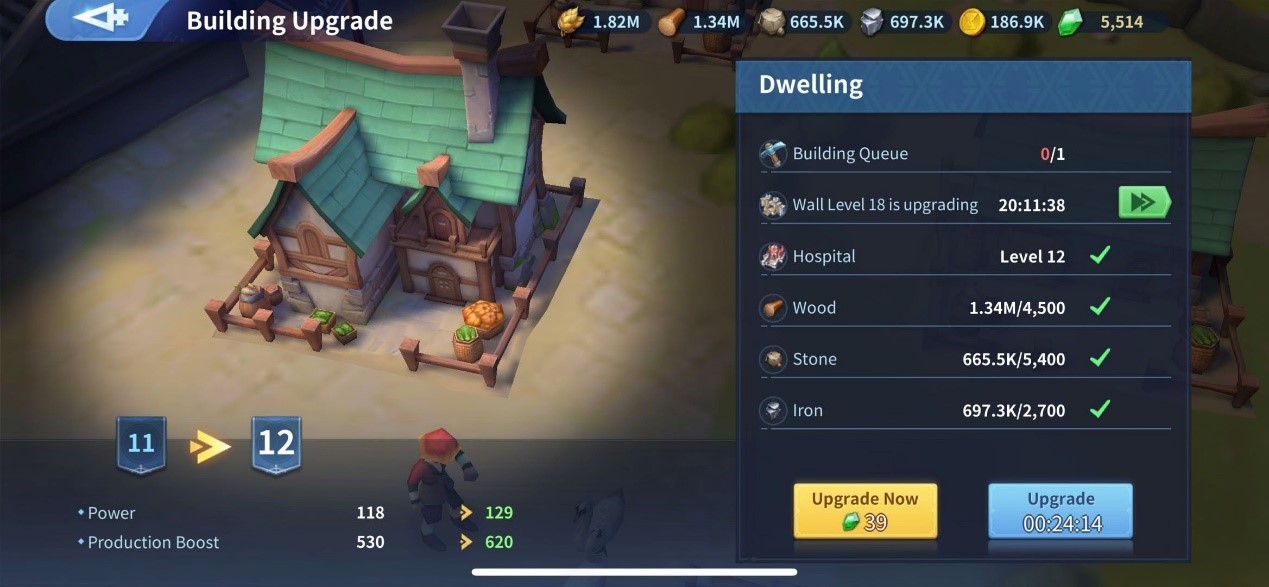 Upgrading your Dwellings are critical to your growth. Dwellings are your primary source of gold and should be priotilized above anything else as you progress. Gold to upgrade dragons and Immortals is hard to get and take much longer to complete than the rest of your buildings. Thus, NEVER neglect to upgrade those dwellings!
See guides on gold farming here.
The list below is a comprehensive list of all upgrade costs for Dwellings and every level.
| | |
| --- | --- |
| Level 2 | |
| Wood: | 250 |
| Stone: | 300 |
| Iron: | 150 |
| Level 3 | |
| Wood: | 380 |
| Stone: | 450 |
| Iron: | 230 |
| Level 4 | |
| Wood: | 500 |
| Stone: | 600 |
| Iron: | 300 |
| Level 5 | |
| Wood: | 630 |
| Stone: | 750 |
| Iron: | 380 |
| Level 6 | |
| Wood: | 750 |
| Stone: | 900 |
| Iron: | 450 |
| Level 7 | |
| Wood: | 1,000 |
| Stone: | 1,200 |
| Iron: | 600 |
| Level 8 | |
| Wood: | 1,300 |
| Stone: | 1,500 |
| Iron: | 750 |
| Level 9 | |
| Wood: | 1,900 |
| Stone: | 2,300 |
| Iron: | 1,100 |
| Level 10 | |
| Wood: | 2,500 |
| Stone: | 3,000 |
| Iron: | 1,500 |
| Level 11 | |
| Wood: | 3,400 |
| Stone: | 4,100 |
| Iron: | 2,000 |
| Level 12 | |
| Wood: | 4,500 |
| Stone: | 5,400 |
| Iron: | 2,700 |
| Level 13 | |
| Wood: | 5,900 |
| Stone: | 7,100 |
| Iron: | 3,500 |
| Level 14 | |
| Wood: | 7,900 |
| Stone: | 9,500 |
| Iron: | 4,700 |
| Level 15 | |
| Wood: | 10,200 |
| Stone: | 12,300 |
| Iron: | 6,200 |
| Level 16 | |
| Wood: | 12,800 |
| Stone: | 15,400 |
| Iron: | 7,700 |
| Level 17 | |
| Wood: | 15,800 |
| Stone: | 19,000 |
| Iron: | 9,500 |
| Level 18 | |
| Wood: | 19,300 |
| Stone: | 23,200 |
| Iron: | 11,600 |
| Level 19 | |
| Wood: | 26,500 |
| Stone: | 31,800 |
| Iron: | 15,900 |
| Level 20 | |
| Wood: | 34,600 |
| Stone: | 41,500 |
| Iron: | 20,700 |
| Level 21 | |
| Wood: | 43,300 |
| Stone: | 52,000 |
| Iron: | 26,000 |
| Level 22 | |
| Wood: | 53,200 |
| Stone: | 63,900 |
| Iron: | 31,900 |
| Level 23 | |
| Wood: | 64,100 |
| Stone: | 76,900 |
| Iron: | 37,800 |
| Level 24 | |
| Wood: | 88,700 |
| Stone: | 106,500 |
| Iron: | 53,200 |
| Level 25 | |
| Wood: | 116,200 |
| Stone: | 139,500 |
| Iron: | 69,700 |
| Level 26 | |
| Wood: | 143,300 |
| Stone: | 172,000 |
| Iron: | 86,000 |
| Level 27 | |
| Wood: | 173,100 |
| Stone: | 207,700 |
| Iron: | 103,800 |
| Level 28 | |
| Wood: | 205,800 |
| Stone: | 247,000 |
| Iron: | 123,500 |
| Level 29 | |
| Wood: | 278,700 |
| Stone: | 334,500 |
| Iron: | 167,200 |
| Level 30 | |
| Wood: | 358,500 |
| Stone: | 430,200 |
| Iron: | 215,100 |
| Level 31 | |
| Wood: | 433,100 |
| Stone: | 519,700 |
| Iron: | 259,800 |
| Level 32 | |
| Wood: | 513,800 |
| Stone: | 616,600 |
| Iron: | 308,300 |
| Level 33 | |
| Wood: | 601,200 |
| Stone: | 721,500 |
| Iron: | 360,700 |
| Level 34 | |
| Wood: | 828,700 |
| Stone: | 994,500 |
| Iron: | 497,200 |
| Level 35 | |
| Wood: | 1,100,000 |
| Stone: | 1,300,000 |
| Iron: | 645,000 |
| Level 36 | |
| Wood: | 1,300,000 |
| Stone: | 1,600,000 |
| Iron: | 782,200 |
| Level 37 | |
| Wood: | 1,500,000 |
| Stone: | 1,900,000 |
| Iron: | 929,400 |
| Level 38 | |
| Wood: | 1,800,000 |
| Stone: | 2,200,000 |
| Iron: | 1,100,000 |
| Level 39 | |
| Wood: | 2,400,000 |
| Stone: | 2,900,000 |
| Iron: | 1,500,000 |
| Level 40 | |
| Wood: | 3,300,000 |
| Stone: | 4,000,000 |
| Iron: | 2,000,000 |
| Level 41 | |
| Wood: | 3,500,000 |
| Stone: | 4,200,000 |
| Iron: | 2,100,000 |
| Level 42 | |
| Wood: | 4,000,000 |
| Stone: | 4,800,000 |
| Iron: | 2,400,000 |
| Level 43 | |
| Wood: | 4,600,000 |
| Stone: | 5,500,000 |
| Iron: | 2,800,000 |
| Level 44 | |
| Wood: | 5,200,000 |
| Stone: | 6,200,000 |
| Iron: | 3,100,000 |
| Level 45 | |
| Wood: | 5,500,000 |
| Stone: | 6,600,000 |
| Iron: | 3,300,000 |
| Level 46 | |
| Wood: | 5,900,000 |
| Stone: | 7,100,000 |
| Iron: | 3,600,000 |
| Level 47 | |
| Wood: | 6,300,000 |
| Stone: | 7,600,000 |
| Iron: | 3,800,000 |
| Level 48 | |
| Wood: | 6,700,000 |
| Stone: | 8,100,000 |
| Iron: | 4,000,000 |
| Level 49 | |
| Wood: | 7,200,000 |
| Stone: | 8,600,000 |
| Iron: | 4,300,000 |
| Level 50 | |
| Wood: | 7,600,000 |
| Stone: | 9,100,000 |
| Iron: | 4,600,000 |
Published: 20-06-2022