Walls & Training Grounds Upgrade Costs
Table of content:
– Training Grounds
– Walls
– Upgrade Costs of Training Grounds & Walls
Training Grounds
The Training Grounds is where you can check your army status like total number of available troops, troops that are already deployed, the number of wounded troops, etc. The higher the level of your Training Grounds, the more troops you can have. You cannot build a real army without upgrading your Training Grounds.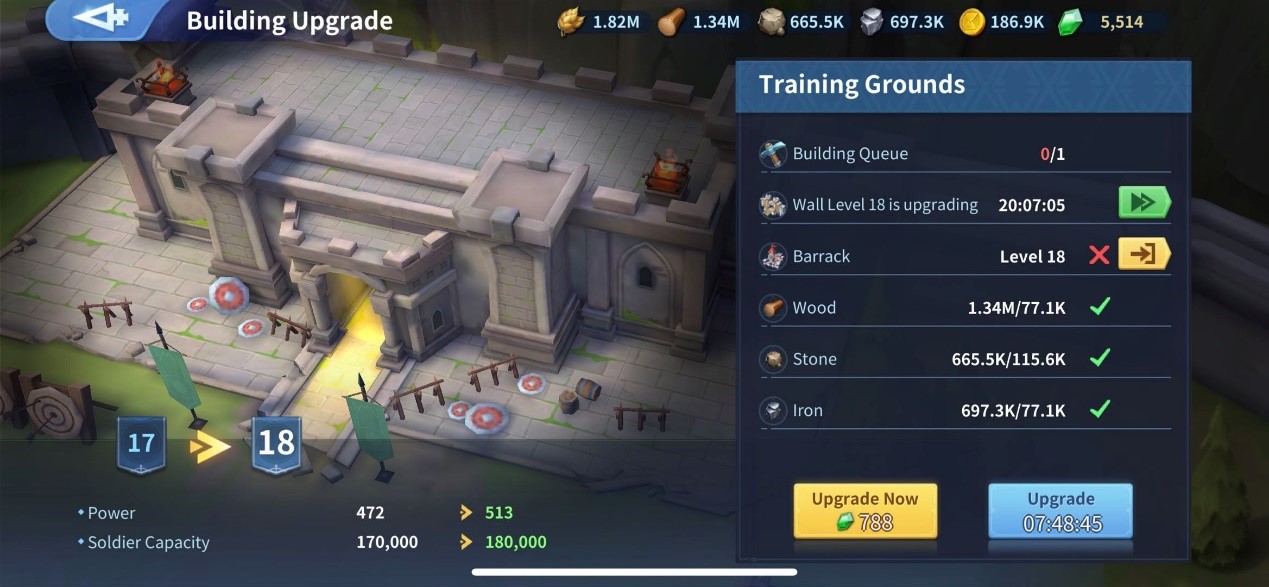 Walls
The Walls is what protects your Castle city from harm. When you are attacked by enemies you can place armies at your walls to garrison your city. You can also assist fellow alliance teamplayers by sending garrisons to their walls at a time of need. The high the level of your Walls the more durability they have. If an attacker defeats all garrisoned armies on the walls, they also need to defeat the walls themselves. I.e. killing the durability of your wall whilst they take damage from all of your fortifications. You can train fortifications at the walls.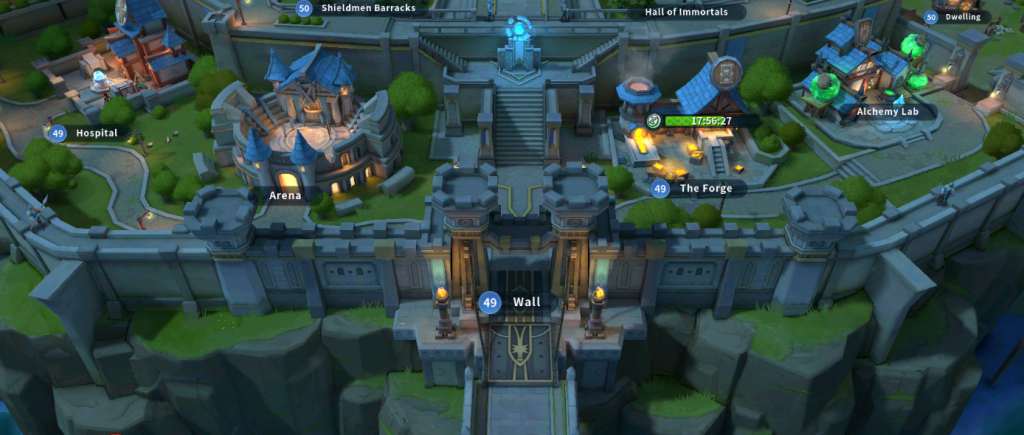 Upgrading your castle level requires specific buildings to have been constructed first. You can find my comprehensive list of all requirements for each castle level here.
Every Castle level requires you to have upgraded your walls and for walls your training grounds. Hence these two always go hand in hand and you need to upgrade both continually to unlock new Castle levels. See Upgrade Costs of Castle levels here.
Upgrade Costs
| | | |
| --- | --- | --- |
| Level 2 | Walls | Training Grounds |
| Wood: | 1,200 | 1200 |
| Stone: | 2,400 | 1800 |
| Iron: | 2,000 | 1200 |
| Level 3 | Walls | Training Grounds |
| Wood: | 1,800 | 1800 |
| Stone: | 3,600 | 2700 |
| Iron: | 3,000 | 1800 |
| Level 4 | Walls | Training Grounds |
| Wood: | 2,400 | 2400 |
| Stone: | 4,800 | 3600 |
| Iron: | 4,000 | 2400 |
| Level 5 | Walls | Training Grounds |
| Wood: | 3,000 | 3000 |
| Stone: | 6,000 | 4500 |
| Iron: | 5,000 | 3000 |
| Level 6 | Walls | Training Grounds |
| Wood: | 3,600 | 3600 |
| Stone: | 7,200 | 5400 |
| Iron: | 6,000 | 3600 |
| Level 7 | Walls | Training Grounds |
| Wood: | 4,800 | 4800 |
| Stone: | 9,600 | 7200 |
| Iron: | 8,000 | 4800 |
| Level 8 | Walls | Training Grounds |
| Wood: | 6,000 | 6000 |
| Stone: | 12,000 | 9000 |
| Iron: | 10,000 | 6000 |
| Level 9 | Walls | Training Grounds |
| Wood: | 9,000 | 9000 |
| Stone: | 18,000 | 13500 |
| Iron: | 15,000 | 9000 |
| Level 10 | Walls | Training Grounds |
| Wood: | 12,000 | 12000 |
| Stone: | 24,000 | 18000 |
| Iron: | 20,000 | 12000 |
| Level 11 | Walls | Training Grounds |
| Wood: | 16,200 | 16200 |
| Stone: | 32,400 | 24300 |
| Iron: | 27,000 | 16200 |
| Level 12 | Walls | Training Grounds |
| Wood: | 21,500 | 21500 |
| Stone: | 43,000 | 32200 |
| Iron: | 35,800 | 21500 |
| Level 13 | Walls | Training Grounds |
| Wood: | 27,900 | 27900 |
| Stone: | 55,800 | 41800 |
| Iron: | 46,500 | 27900 |
| Level 14 | Walls | Training Grounds |
| Wood: | 37,500 | 37600 |
| Stone: | 75,100 | 56400 |
| Iron: | 62,600 | 37600 |
| Level 15 | Walls | Training Grounds |
| Wood: | 48,900 | 48900 |
| Stone: | 97,800 | 73300 |
| Iron: | 81,500 | 48900 |
| Level 16 | Walls | Training Grounds |
| Wood: | 61,500 | 61600 |
| Stone: | 123,100 | 92400 |
| Iron: | 102,600 | 61600 |
| Level 17 | Walls | Training Grounds |
| Wood: | 76,000 | 76000 |
| Stone: | 152,100 | 114000 |
| Iron: | 126,700 | 76000 |
| Level 18 | Walls | Training Grounds |
| Wood: | 92,500 | 92500 |
| Stone: | 184,900 | 138700 |
| Iron: | 154,100 | 92500 |
| Level 19 | Walls | Training Grounds |
| Wood: | 126,900 | 126900 |
| Stone: | 253,800 | 190300 |
| Iron: | 211,000 | 126900 |
| Level 20 | Walls | Training Grounds |
| Wood: | 166,000 | 166600 |
| Stone: | 332,000 | 249000 |
| Iron: | 276,000 | 166600 |
| Level 21 | Walls | Training Grounds |
| Wood: | 208,000 | 208100 |
| Stone: | 416,100 | 312100 |
| Iron: | 346,700 | 208100 |
| Level 22 | Walls | Training Grounds |
| Wood: | 255,100 | 255100 |
| Stone: | 510,300 | 382600 |
| Iron: | 425,200 | 255100 |
| Level 23 | Walls | Training Grounds |
| Wood: | 307,600 | 307600 |
| Stone: | 615,000 | 461400 |
| Iron: | 512,000 | 307600 |
| Level 24 | Walls | Training Grounds |
| Wood: | 426,000 | 426000 |
| Stone: | 852,000 | 639000 |
| Iron: | 710,000 | 426000 |
| Level 25 | Walls | Training Grounds |
| Wood: | 557,700 | 557700 |
| Stone: | 1,100,000 | 836700 |
| Iron: | 929,600 | 557700 |
| Level 26 | Walls | Training Grounds |
| Wood: | 688,000 | 688000 |
| Stone: | 1,400,000 | 1000000 |
| Iron: | 1,100,000 | 688000 |
| Level 27 | Walls | Training Grounds |
| Wood: | 831,000 | 831000 |
| Stone: | 1,670,000 | 1250000 |
| Iron: | 1,385,000 | 831000 |
| Level 28 | Walls | Training Grounds |
| Wood: | 987,700 | 987700 |
| Stone: | 2,000,000 | 1500000 |
| Iron: | 1,650,000 | 987700 |
| Level 29 | Walls | Training Grounds |
| Wood: | 1,300,000 | 1300000 |
| Stone: | 2,700,000 | 2000000 |
| Iron: | 2,200,000 | 1300000 |
| Level 30 | Walls | Training Grounds |
| Wood: | 1,700,000 | 1700000 |
| Stone: | 3,400,000 | 2600000 |
| Iron: | 2,900,000 | 1700000 |
| Level 31 | Walls | Training Grounds |
| Wood: | 2,100,000 | 2100000 |
| Stone: | 4,200,000 | 3100000 |
| Iron: | 3,500,000 | 2100000 |
| Level 32 | Walls | Training Grounds |
| Wood: | 2,500,000 | 2500000 |
| Stone: | 4,900,000 | 3700000 |
| Iron: | 4,100,000 | 2500000 |
| Level 33 | Walls | Training Grounds |
| Wood: | 2,900,000 | 2900000 |
| Stone: | 5,800,000 | 4300000 |
| Iron: | 4,800,000 | 2900000 |
| Level 34 | Walls | Training Grounds |
| Wood: | 4,000,000 | 4000000 |
| Stone: | 8,000,000 | 6000000 |
| Iron: | 6,600,000 | 4000000 |
| Level 35 | Walls | Training Grounds |
| Wood: | 5,200,000 | 5200000 |
| Stone: | 10,300,000 | 7700000 |
| Iron: | 8,600,000 | 5200000 |
| Level 36 | Walls | Training Grounds |
| Wood: | 6,300,000 | 6300000 |
| Stone: | 12,500,000 | 9400000 |
| Iron: | 10,400,000 | 6300000 |
| Level 37 | Walls | Training Grounds |
| Wood: | 7,400,000 | 7400000 |
| Stone: | 14,800,000 | 11100000 |
| Iron: | 12,300,000 | 7400000 |
| Level 38 | Walls | Training Grounds |
| Wood: | 8,700,000 | 8700000 |
| Stone: | 17,300,000 | 13000000 |
| Iron: | 14,400,000 | 8700000 |
| Level 39 | Walls | Training Grounds |
| Wood: | 11,700,000 | 11700000 |
| Stone: | 23,400,000 | 17500000 |
| Iron: | 19,500,000 | 11700000 |
| Level 40 | Walls | Training Grounds |
| Wood: | 15,900,000 | 15900000 |
| Stone: | 31,800,000 | 23800000 |
| Iron: | 26,500,000 | 15900000 |
| Level 41 | Walls | Training Grounds |
| Wood: | 16,800,000 | 16800000 |
| Stone: | 33,600,000 | 25200000 |
| Iron: | 28,000,000 | 16800000 |
| Level 42 | Walls | Training Grounds |
| Wood: | 19,300,000 | 19300000 |
| Stone: | 38,700,000 | 29000000 |
| Iron: | 32,200,000 | 19300000 |
| Level 43 | Walls | Training Grounds |
| Wood: | 22,000,000 | 22000000 |
| Stone: | 44,000,000 | 33000000 |
| Iron: | 36,600,000 | 22000000 |
| Level 44 | Walls | Training Grounds |
| Wood: | 24,800,000 | 24800000 |
| Stone: | 49,600,000 | 37200000 |
| Iron: | 41,300,000 | 24800000 |
| Level 45 | Walls | Training Grounds |
| Wood: | 26,500,000 | 26500000 |
| Stone: | 53,100,000 | 39800000 |
| Iron: | 44,200,000 | 26500000 |
| Level 46 | Walls | Training Grounds |
| Wood: | 28,400,000 | 28400000 |
| Stone: | 56,800,000 | 42600000 |
| Iron: | 47,300,000 | 28400000 |
| Level 47 | Walls | Training Grounds |
| Wood: | 30,300,000 | 30300000 |
| Stone: | 60,600,000 | 45400000 |
| Iron: | 50,500,000 | 30300000 |
| Level 48 | Walls | Training Grounds |
| Wood: | 32,300,000 | 32300000 |
| Stone: | 64,600,000 | 48400000 |
| Iron: | 53,800,000 | 32300000 |
| Level 49 | Walls | Training Grounds |
| Wood: | 34,300,000 | 34300000 |
| Stone: | 68,700,000 | 51500000 |
| Iron: | 57,200,000 | 34300000 |
| Level 50 | Walls | Training Grounds |
| Wood: | 36,500,000 | 36500000 |
| Stone: | 73,000,000 | 54800000 |
| Iron: | 60,900,000 | 36500000 |
Published: 30-05-2022