Earth – pure (chase) build
This guide is part of my article series on earth builds. If this build is not to your likeing, have a look at the rest of my builds on the earth build page. I have multiple builds for any taste available, IB, PvE, arena/ToS builds and F2P/cheap builds.
This article is on pure earth. We are running Zeno-Cleo backline to secure the 5/5 elemental bonus. All the earth Immortals are strong in their own right, making it one of the strongest elements to run "pure". This is an extreemly well rounded setup that deals a ton of magic damage, physical damage, has strong healing and great shields and utility. One of the absolute best setups for arena and ToS purposes as it will eat through multiple enemies without loosing its strength (opposite bath-earth teams which is a one fight monster).
This build can beat shadow unlike many other marches. It does however loose hard against holy. It is kind of the same principle as holy, healing, sustain, balanced with one nuker and one slow ramp-up dps. This earth is kind of a standard holy light version, meaning it looses out in every aspect.
It is a great build to have and I personally have had this team as my main for atleast 300 of the 400+ days I played so far. It is extreemly good in ToS and arena. 
Requires Charles maxed, thus you need to be atleast a low spender to get this build working right.
Setup
This setup is the absolute best default-standard earth build. You need not worry about swapping anything based on enemies or thinking too much. Just watch chase nuke, and Alex slowly suffocate anything while dearest Charles and Zeno keeps your HP from dropping. With the new uniques, this team is close to unstopable.
Only thing that can kill this is holy or very well built lightning teams.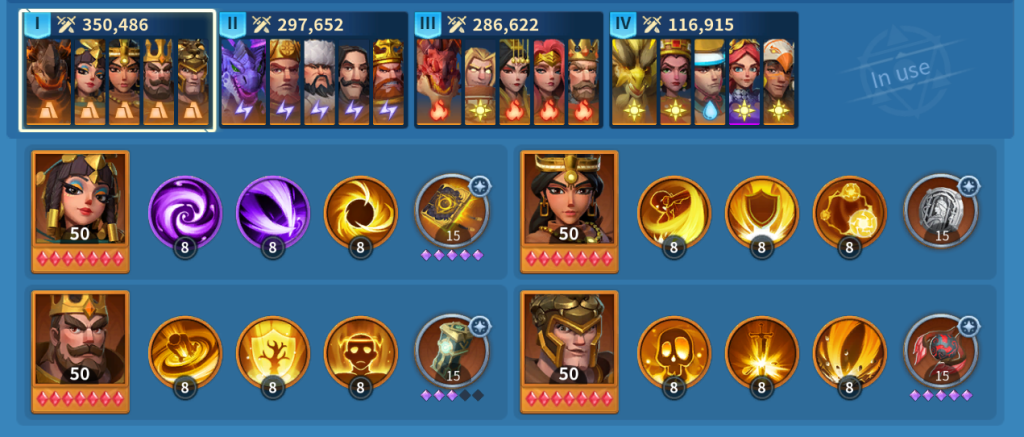 You want to run this passive loadout:
Zeno: Misleading/Coercion + Life Link + Assist
Cleopatra: Annihilation + Chase + Nova (fire or toxic)
Alex: Cleave + Malice + Death Breath
Charles: Oaken Guard + Weakness + Energy Suppression
Published: 03-05-2022