Free 2 Play Beginner Lightning (Gilga)
This guide is part of my article series on lightning builds. If this build is not to your likeing, have a look at the rest of my builds on the lightning build page. I have multiple builds for any taste available, IB, PvE, arena/ToS builds and F2P/cheap builds.
This article is on Free 2 Play lightning. As you know, there are many water and earth mains, which makes lightning a strong team to master. Moreover, Lightning is surprisingly strong as a free to play player! Moreover, if you are patient and smart about it, you can unlock Genghis Khan for free via events like Spring Fiesta! Making the absolute BiS lightning team, completly free!
For the purpose of this article, we avoid Khan and assume you are unable to purchase him and that you do not have the gems to max out Hummurabi (if you do, check out my Humm-Lightning guide or one of the Khan guides.
This is a very strong build that works as an allround lightning build for the player who needs lightning to do everything. Beware, that you may struggle a bit on bosses. As such, you should check out my lightning boss build.
This build performs very well versus shadow. It looses to holy, but is a great place to start before moving into Khan lightning versus holy.

Setup
This setup is pretty standard and revolves around pumping Gilga's damage while maintaining sustainability from YSG and Richard as well as control via Richard stun and fighting will on Peter. Moreover, Peter adds a very nice secondary DPS to the fight. The biggest drawback of using this as your main, is that you are unable to use the strong magic damage passives available. This however, also means you are taking full advantage of the phys-dominated meta atm. and that you can run BiS passives in your second march (e.g. fire double mage).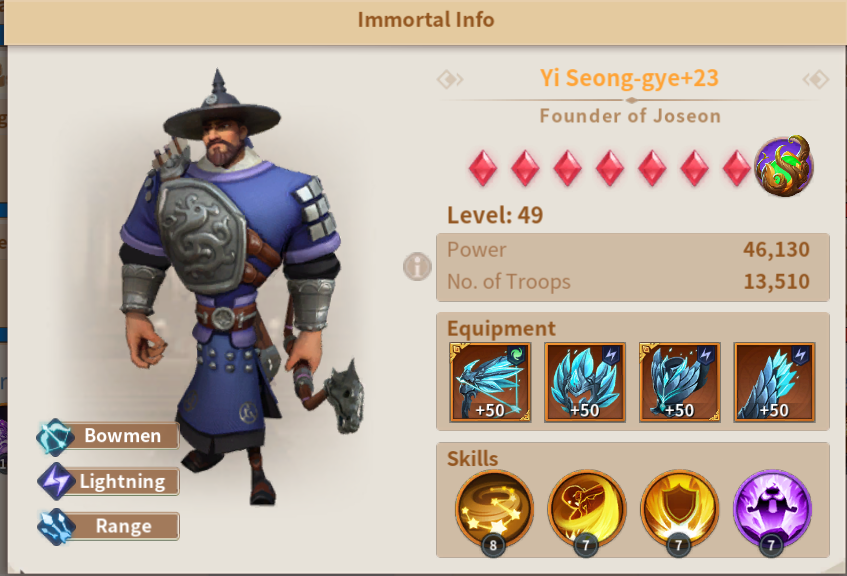 You want to run this passive loadout:
Gilgamesh: Anger + Death Breath + Fighting Master/Duel Master (depends on your opponents; VS water and earth you want Fighting Master).
Yi Seong Gye: Rage Blessing + Coercion + Assist
Peter: Fighting Will + Weakness + Cleave
Richard: Oaken Guard + Malice + Energy Suppression
Published: 17-04-2022