Tower of Knowledge (ToK) passives
You can get various battle or support skills for your Immortals. Unlock skills at the Tower of Knowledge and equip your Immortals with the most suitable skills to optimize their performance on the battlefield!
The Tower of Knowledge is a structure in a player's territory unlocked after castle level 12 while allows you to learn new skills you can assigns to immortals.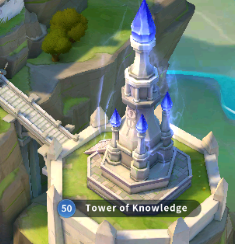 Skill types
There are five types of skills:
Passive
Triggered
Aura
Blessing
Grace
Passive means a skill which is always active in the background and does not require anything to trigger or activate the skill. For instance, a x% increase to physical damage dealt.
Triggered means that something "x" has to occur in order for the skill to activate. For instance, garrote has a 40% chance every 6s to trigger, i.e. activate and deal x% damage.
Aura means a passive skill effect which applies to the entire army (all four Immortals). Any Immortal can only equip 1 aura passive.
Blessing & Grace these are the same, they changed the name of Blessings into Grace during patching for unknown reasons. A grace/blessing takes effect for a certain amount of time. They will activate when the battle begin and last for 12 seconds. For instance, for the first 12s of battle, x immortals in your army will take y reduced damage (defense blessing).
All ToK skills
| | | | |
| --- | --- | --- | --- |
| Skill | Lvl | Quality | Type |
| Onslaught | 1 | Uncommon | Passive |
| Wisdom | 1 | Uncommon | Passive |
| Hold Fast | 5 | Uncommon | Passive |
| Fortify | 5 | Uncommon | Passive |
| Thump | 5 | Rare | Triggered |
| Meteor | 10 | Rare | Triggered |
| Instigation | 10 | Rare | Triggered |
| Support | 15 | Rare | Triggered |
| Grace | 15 | Rare | Triggered |
| Silence | 15 | Rare | Triggered |
| Stray Arrow | 20 | Rare | Triggered |
| Combo | 20 | Rare | Passive |
| Root | 22 | Rare | Triggered |
| Precision | 22 | Rare | Passive |
| Penance | 22 | Rare | Passive |
| Rage | 24 | Rare | Passive |
| Concentration | 24 | Elite | Passive |
| Agile | 25 | Rare | Passive |
| Retaliate | 25 | Rare | Passive |
| Chase | 25 | Elite | Triggered |
| Magical Shield | 26 | Elite | Passive |
| Chaotic Blade | 26 | Elite | Triggered |
| Physical Shield | 27 | Elite | Passive |
| Anger | 27 | Elite | Passive |
| Absorb | 27 | Elite | Passive |
| Heavenly Thunder | 28 | Elite | Triggered |
| Fighting Master | 28 | Elite | Passive |
| Afterimage | 29 | Elite | Blessing |
| Toxin Nova | 29 | Elite | Triggered |
| Defense Blessing | 29 | Elite | Blessing |
| Adrenaline Rush | 30 | Elite | Triggered |
| Garrote | 30 | Elite | Triggered |
| Fire Nova | 30 | Elite | Triggered |
| Iron Will | 30 | Elite | Passive |
| Will of Angels | 31 | Elite | Passive |
| Life Link | 31 | Elite | Triggered |
| Cleave | 31 | Epic | Passive |
| War Blessing | 32 | Elite | Blessing |
| Demon Body | 32 | Elite | Passive |
| Sacrifice | 33 | Elite | Aura |
| Duel Master | 33 | Elite | Passive |
| Berserk | 33 | Epic | Aura |
| Rage Blessing | 34 | Elite | Blessing |
| Resist | 34 | Epic | Blessing |
| Absolute Defense | 35 | Elite | Triggered |
| Malice | 35 | Epic | Aura |
| Oaken Guard | 35 | Epic | Blessing |
| Speed Blessing | 36 | Elite | Blessing |
| Energy Suppression | 36 | Epic | Blessing |
| Vitality Touch | 36 | Epic | Triggered |
| Guard | 36 | Epic | Triggered |
| Fighting Will | 37 | Epic | Passive |
| Annihilation | 37 | Epic | Triggered |
| Energy Burst | 37 | Epic | Triggered |
| Misleading | 38 | Epic | Aura |
| Weakness | 38 | Epic | Aura |
| Purification | 38 | Epic | Triggered |
| Jade Barrier | 38 | Epic | Passive |
| Death Breath | 39 | Epic | Triggered |
| Coercion | 39 | Epic | Aura |
| Assist | 39 | Epic | Triggered |
| Shelter | 40 | Epic | Aura |
| Paralysis | 40 | Epic | Aura |
| Sniper | 40 | Epic | Triggered |
| Spear Impale | 40 | Epic | Triggered |
| Deadeye | 41 | Elite | Grace |
| Overpower | 41 | Epic | Passive |
| Berserker | 41 | Epic | Passive |
| Void Realm | 42 | Epic | Grace |
| Wind Protection | 42 | Epic | Triggered |
| Shatter | 43 | Epic | Passive |
| Desire of Life | 43 | Epic | Triggered |
| Full Coverage | 43 | Epic | Passive |
| Stormeye | 44 | Epic | Triggered |
| Lightning Protection | 44 | Epic | Triggered |
| Vigorous | 45 | Elite | Passive |
| Demonic Contract | 45 | Epic | Passive |
| Fear of Domination | 45 | Epic | Aura |
| Siren's Gaze | 45 | Epic | Triggered |
| Earth Protection | 46 | Epic | Triggered |
| Rock Solid | 47 | Elite | Passive |
| Smite | 47 | Epic | Triggered |
| Spell Disintegrator | 47 | Epic | Triggered |
| Weakness Protection | 48 | Epic | Grace |
| Water Protection | 48 | Epic | Triggered |
| Intimidation | 49 | Elite | Passive |
| Wind Rage | 49 | Epic | Passive |
| Victorious Pursuit | 49 | Epic | Passive |
| Armageddon | 50 | Epic | Triggered |
| Flame Protection | 50 | Epic | Triggered |
Published: 05-06-2022